Supply Chain Crisis
How can Australian businesses be in a better position to ride through this supply chain crisis? The answer might be to strengthen the competency of one's local supply chains.
Supply chain crisis
The recent supply chain issues have exposed how in a post-pandemic world, there is an increasing emphasis to develop one's local supply chain. Trusted strategies like just-in-time inventory management cannot keep working as reliably as they have before without a firm having a solid local supply chain as part of their operations.
The unprecedented pressures on global supply chains mean firms, especially in the manufacturing sector, would benefit from consolidating their operational value chain as domestically as possible.
The ABS estimates suggest that almost 47% of Australian businesses are suffering in one way or the other from these supply chain delays. 36% of the 47% affected termed it as these disruptions affecting them to a 'great extent'.
Some of the most impacted industries include wholesale trade (75%), retail trade (71%), and manufacturing (65%). These stats further solidify the need for trustworthy domestic supply chains for Australian firms moving forward as the supply chain issues are not expected to be resolved anytime soon.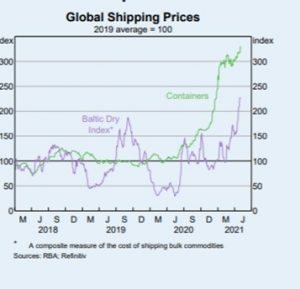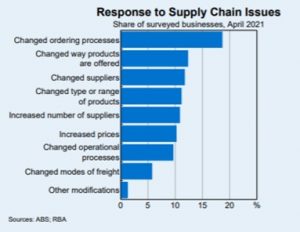 What are the strengths of a dependable array of domestic supply chain partners?
It can result in considerable reductions in sourcing costs.
It has the potential to become a risk-mitigation tool that can reduce the disruptions Australian businesses have faced due to the global supply chain crisis.
It can result in long-term mutually beneficial relationships with local SMEs that may provide new opportunities.
It has the potential to provide faster delivery times across the value chain which can result in greater customer satisfaction.
It provides all parties involved greater flexibility and allows them to be more agile in the way they respond to potential contracts or projects.
PRP and local supply
Where does PRP fit in as an Australian business that can provide value and increase the local supply chain competency of other Australian businesses?
PRP is an Australian mechanical engineering firm that has over 30 years of innovative engineering expertise. PRP provides CNC flatbed cutting services comprising waterjet, laser, knife, router, and die press. We cater to an extensive variety of industrial material cutting solutions, and constantly strive to find innovative ways to serve our customers.
Our operations are based in Adelaide, and we provide a wide variety of design and engineering solutions for our customers' unique needs.
And the best thing, everything is done in-house!